April 30, 2015
7:30 pm
Biola University
How can societies preserve freedom for all people when we are beset by serious and substantial disagreements over what shape freedom should take?  What kinds of virtues do we need as a people to preserve the common good?  What kinds of pursuits can we undertake together that might safeguard our ability to disagree while still providing strong and enduring bonds?
Those are weighty questions. And few people are more worth hearing discuss them than Cornel West, Robert George, and Rick Warren.  Each is a highly visible, prominent public figure. Each comes from a different religious and philosophical tradition. Each is committed to holding their convictions firmly while discussing ideas seriously.
On April 30th, listen and participate in this important conversation on the shape and limits of freedom in our society. If you live in Los Angeles, we invite you to join us and bring a friend.  If you live elsewhere, we invite you to watch the livestream (you can request a reminder here) and join the conversation online.
This event is co-sponsored by Biola University's Torrey Honors Institute and The Center for Christian Thought. 
About our Speakers 
Cornel West
Cornel West is a prominent and provocative democratic intellectual.  He is the Class of 1943 University Professor at Princeton University.  He graduated Magna Cum Laude from Harvard in three years and obtained his M.A. and Ph.D. in Philosophy at Princeton.  He has taught at Union Theological Seminary, Yale, Harvard and the University of Paris.  He has written 19 books and edited 13 books.  He is best known for his classic Race Matters, Democracy Matters, and his new memoir, Brother West:  Living and Loving Out Loud.  He appears frequently on the Bill Maher Show, Colbert Report, CNN and C-Span as well as on his dear Brother, Tavis Smiley's PBS TV Show.  He can be heard weekly with Tavis Smiley on "Smiley & West", the national public radio program distributed by Public Radio International (PRI).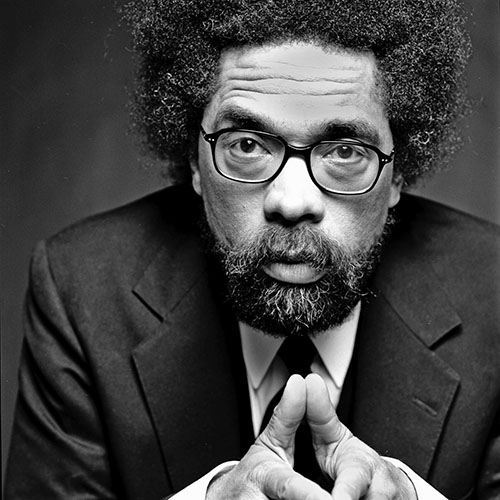 He made his film debut in the Matrix – and was the commentator (with Ken Wilbur) on the official trilogy released in 2004.  He also has appeared in over 25 documentaries and films including Examined Life, Call & Response, Sidewalk and Stand.  Last, he has made three spoken word albums including Never Forget, collaborating with Prince, Jill Scott, Andre 3000, Talib Kweli, KRS-One and the late Gerald Levert.  His recent spoken word interludes were featured on Terence Blanchard's Choices (which won the Grand Prix in France for the best Jazz Album of the year of 2009), The Cornel West Theory's Second Rome and the Raheem DeVaughn's Love & War: Masterpeace.  In short, Cornel West has a passion to communicate to a vast variety of publics in order to keep alive the legacy of Martin Luther King, Jr. – a legacy of telling the truth and bearing witness to love and justice.
Robert George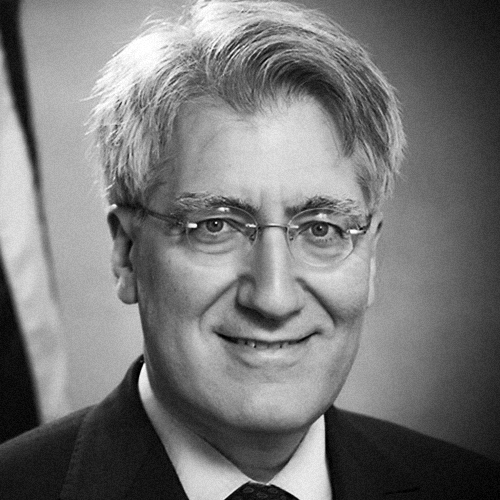 Robert P. George is the Herbert W. Vaughan Senior Fellow of the Witherspoon Institute. He is McCormick Professor of Jurisprudence and Director of the James Madison Program in American Ideals and Institutions at Princeton University. He has served as a presidential appointee to the United States Commission on Civil Rights and as a member of the President's Council on Bioethics. He is a former Judicial Fellow at the Supreme Court of the United States, where he received the Justice Tom C. Clark Award. He has also served on UNESCO's World Commission on the Ethics of Scientific Knowledge and Technology (COMEST), of which he continues to be a corresponding member.
Professor George is the author or co-author of five books, including What Is Marriage?, Conscience & Its Enemies, and The Clash of Orthodoxies: Law, Religion, and Morality in Crisis, and is editor of several more. His articles and review essays have appeared in the Harvard Law Review, the Yale Law Journal, the Columbia Law Review, the University of Chicago Law Review, the Review of Politics, the Review of Metaphysics, and the American Journal of Jurisprudence. He is a frequent contributor to First Things magazine, where he is a member of the editorial advisory board, and has also written for the New York Times, the Wall Street Journal, the Washington Post, National Review, Touchstone, the Boston Review, City Journal, and the Times Literary Supplement.
A graduate of Swarthmore College and Harvard Law School, Professor George also earned a master's degree in theology from Harvard and a doctorate in philosophy of law from Oxford University. He was elected to Phi Beta Kappa at Swarthmore, and received a Knox Fellowship from Harvard for graduate study in law and philosophy at Oxford. He holds honorary doctorates of law, letters, ethics, science, civil law, humane letters, and juridical science.
Rick Warren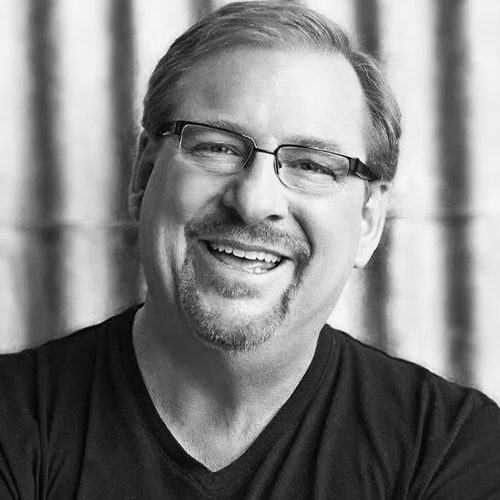 Dr. Rick Warren is passionate about attacking what he calls the five "Global Goliaths" – spiritual emptiness, egocentric leadership, extreme poverty, pandemic disease, and illiteracy/poor education. His goal is a second Reformation by restoring responsibility in people, credibility in churches, and civility in culture. He is a pastor, global strategist, theologian, and philanthropist.
As a pastor, he founded Saddleback Church in Lake Forest, Calif., in 1980 with one family. Today, it is an evangelical congregation averaging 30,000 weekly attendees, and has more than 300 community ministries to groups such as prisoners, CEOs, addicts, single parents, and those with HIV/AIDS. Recently, the church fed 42,000 homeless people – three meals a day – for 40 days.
Dr. Warren advises leaders in the public, private, and faith sectors on leadership development, poverty, health, education, and faith in culture. He has been invited to speak at the United Nations, the World Economic Forum in Davos, the African Union, the Council on Foreign Relations, Harvard's Kennedy School of Government, TIME's Global Health Summit, and numerous congresses around the world. TIME magazine named him one of "15 World Leaders Who Mattered Most in 2004" and in 2005 one of the "100 Most Influential People in the World." Also, in 2005 U.S. News & World Report named him one of "America's 25 Best Leaders."